Open floor plans dominate architectural trends in residential construction for a few decades, showing no signs of withdrawal. As a clear concept, it first appeared in the 1950s with the growing trend of contemporary styling. The popularity continued through the 1970s, and by the mid-'90s this type of layout has become a staple of modern design. Homeowners often turn to open concept solutions, mostly due to its sleekness and convenience.
A large portion of the major remodelling projects in older homes feature joining the kitchen, dining, and living room into a form of communal living space. The open concept implies, above all, elimination of all unnecessary walls and barriers in the living area. This kind of construction often relies on heavy-duty beams to carry the load.
Why Do I Prefer to Design Open Concept Homes?
The benefits of open floor plans are numerous: the free flow of natural light, the enhanced feeling of spaciousness, openness, and several social and family life advantages. It allows hosts to interact with their guests from the kitchen, or organize cooking parties. Also, parenting becomes more relaxed with the opportunity to do many things at once.
Advantages of Open Concept Homes
An open floor plan encourages traffic flow. Without walls to hinder movements and doors to open and close, people can move through space more freely.
Social interaction and communication significantly improve in the absence of walls. Without barriers, it's possible to talk and keep contact across the rooms without interruptions.
The abundance of light is one of the major benefits of open concept space. Large windows allow for the maximum of natural light to fill the living area. Additionally, the open concept solves the issue of having rooms with windows too small or non-existent.
Real estate value can significantly increase. An open floor plan is highly sought after and usually affects your home's value in the eyes of prospective buyers.
The open floor concept simplifies multitasking for families with small kids. Parents can easily supervise children while simultaneously performing their daily activities.
The absence of partitions walls allows for more flexibility in setting up a layout. It's easier to reconfigure furnishings and accessories while utilizing available space in the most efficient way possible.
In contrast to closed rooms, the open floor concept is also multifunctional. The area can efficiently serve as a family room, a recreation room, a home office, or an entertainment space. Without major interventions, you can use the place according to your needs of the moment.
Large gatherings can be accommodated with no problem. Simply rearranging elements within the open home offers more flexibility than trying to navigate around many static parts of the structure.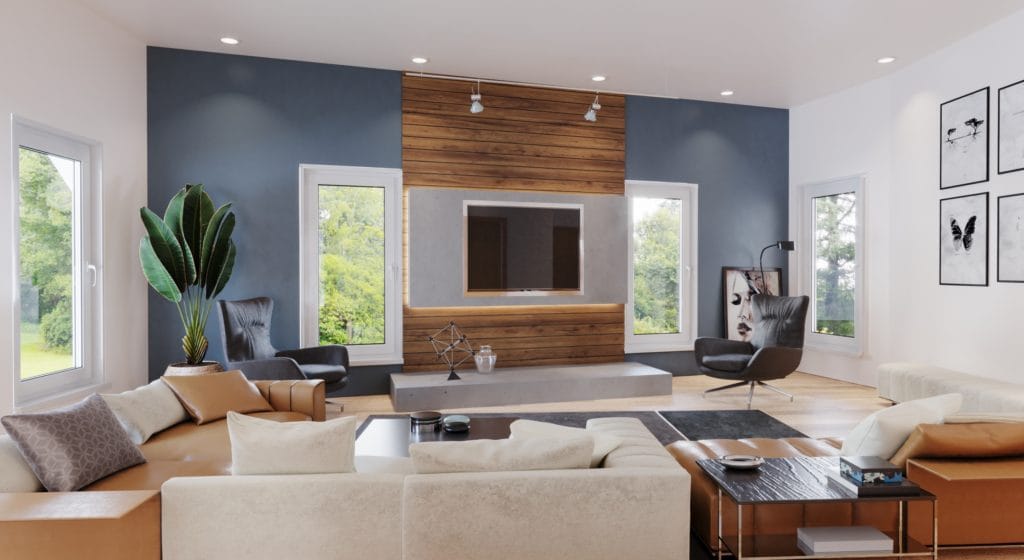 Psychology of the Open Concept Space
Interior design has a major impact on your emotions and perception. There is a dedicated part of your brain that reacts to the geometry of the space. That is why the best design orchestrates proportion, symmetry, balance, and rhythm to introduce an overall sense of harmony.
Meanwhile, every color, shape, or shade can trigger the subconscious associations. Light, at the same time, has a role of its own. The spaces we live in are an inherent part of people's mental well-being. It's the responsibility of the architect to take all factors into consideration and shape solutions that will benefit the user at many, or all, levels.
When it comes to your living space, openness offers wideness. Combined with windows that connect it to the outside world, it gives the feeling of freedom. Humans are not meant to live in boxes, and your living space should not remind you of a dungeon, keeping you closed between narrow walls. In contrast to your bedroom that requires a sense of intimacy and privacy, the living area should be a place to connect and spread your wings.
Some of the key designing factors every architect must consider are ease of movement, sensory stimulation, and social connectedness. Along comes the quality of light and air. The open concept works alongside all those factors to deliver the best package of benefits within designated limits.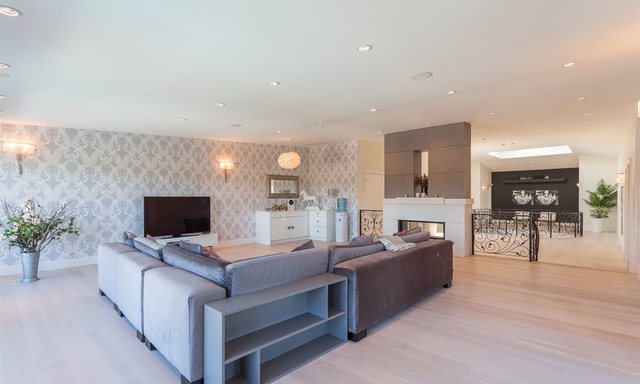 Harmonized Aesthetics
When we design open space, we join the compartments of living room, kitchen, family room, and dining room. At the same time, we explore new, creative ways to separate these compartments. Even the tiniest changes in the decorative motives, panning, light pattern, or floor covering, create an orchestra of beauty. On the contrary, when a designer separates them by walls and hallway, not only does the place look smaller, but it indeed loses a lot of space for the circulation from one room to another.
Having a clear plan in mind before diving into any design project is always important. However, when you're working with an open concept space, it becomes the priority. To put a proper focus on the room's aesthetics, you first need a defined idea of the ways you intend to use the space. Stunning visuals lose their impact if a person inside can't function due to a bad floor plan or inadequate furniture.
The best way to harmonize is to create distinct groupings by function. When putting an open space together, visual cues separate each dedicated zone without the need for specified barriers. For instance, a kitchen and a dining area often share one common space. In this case, a kitchen island or peninsula acts as a visual dividing line between the two regions.
To create zoning between a dining area and a living room, a divider can be a short set of stairs, different paint colors, different flooring, a laser-cut decorative barrier, or a bookshelf.
Maintaining a steady aesthetic flow throughout an open-concept space is crucial. All principal design features, such as flooring, furnishing style, and lighting, should be consistent. Color palettes should complement one another. Highlights and accents are achieved through deco, layers of texture, and different hues.
Increased Maneuverability
The open space concept offers more flexibility in use, and also improves productivity. A typical kitchen traffic flow follows the line of acquiring—washing/cutting—cooking food. The efficiency of this process greatly depends on the available space. The size and shape of a traditional working triangle are determined by the sink, fridge, and stove positions. Minimizing the distance between them is easier to achieve in an open concept plan due to its flexibility.
The open plan also allows more users at the same time, without movement interruption.
That is very convenient for smaller homes, since allowing fewer restrictions for shared activities with high frequency. An open floor concept is a consistently functional space with augmented friends & family factors.
Regardless of age, moving around is more comfortable when your home is not separated by doors and hallways. Since there are no walls between the rooms, the travel distance is shorter between point A to point B in a house. This is especially significant for residents with mobility issues. Using walking assistance or a wheelchair is a lot easier with fewer barriers on the way.
Furnishing an Open Concept Space
An open plan's interior design depends on a space available to work with, the ways to divide and arrange dedicated zones, and the volume of traffic necessary to secure functionality.
One of the common mistakes in laying out an open concept home is not considering traffic flow. Functionally conducive walkways between zones should go hand in hand with furniture layout, supporting instead of compromising each other.
An open floor plan should not be interrupted by too many visual barriers. Partitioning the area defeats the purpose of having an open-concept. An open shelving unit, for example, can create division while still maintaining a sense of openness, but cluttering it with too much deco will distract the eye's line of sight.
When the entire room is within sight, it's easier to spot the subtle inconsistencies that break up the harmony. Tall furniture can visually anchor one area more than the others. Significant differences in flooring or too many strong, contrasting wall colors will ruin the streamline and bring out the vibe of discomfort in place of a balanced, pleasant symmetry.
Fewer walls can also mean less storage space. The utilization of empty wall space can circumvent such an issue. Smart storage and built-in hidden shelves provide plenty of creative opportunities. A kitchen island or bar can also host some hidden storage compartments. Modern design offers visually flawless multifunctional pieces, such as a coffee table that doubles as a storage box or a sofa designed with surrounding exterior shelves.
Finally, seating should always inspire social interaction. A well-designed open space concept will offer some space for a private conversation, with sofas and armchairs arranged to create more intimate contacts.
By Aryo Falakrou (My Home Designer)