Decluttering and organizing our storage space helps more than just our mental health. It also makes the home safer by decreasing the chance of injuries and falls. The older you become, the more critical it turns.
When you have a clean home and organized kitchen, bathroom, and bedroom, you stimulate your brain in a healthier, more free manner. Your eyes roam undisrupted, which helps you to focus. Consequently, you enjoy your life more.
Getting rid of the excess things can be stressful, but having them all around is worse. A middle solution? Upgrade your storage space and introduce some smart storage solutions. It will reward you with an opportunity for a fresh start.
We All Need More Storage Space As Time Goes By
There's a vast number of reasons why we have clutter. Impulse shopping, emotional emptiness, collected memories… "I might need it," "Soon the things will change," "I will lose weight and wear it again" – we all know the same all song.
Since the pandemic started and staying at home became the part of "new normal," the chances are that your living space:
Became more cluttered than ever
Turned to a constant source of stress over things that you might not have been noticing before
Now the times are changing, and life is gradually going back to "old normal." Perhaps it's the best moment to deal with everything that has been standing in your way for months and months? Making a fresh start is beneficial, and not to mention that it feels so good.
Psychological Effects of Clutter
Stress and More Stress
The most common psychological effect of clutter is stress—no need to say how it affects our health. The constant hassle of dealing with the mess and lack of organization can rocket your cortisol levels sky-high. Consequently, it provokes structural changes in our brain, inducing long-term sensitivity to stress.
Low Self-Esteem
An organized home is a sign of an organized mind. Conversely, cluttered environments send a message of inadequacy, incapability to keep things under control – there's a reason why cluttered homes are commonly linked to depression. And then there is another price: a messy house can cost you social life in more than one way.
We get a lot of energy from our environment and the impulses it creates in our brains. It's impossible to properly relax in a chaotic atmosphere. Even if you feel like it happens, your brain knows the difference. In the same way the sterile room can feel uneasy and awake the sensation of emptiness, a messy place will make you feel tired sooner than later. Finally, you will not have enough motivation to do the things you want, in return feeling lazy and less worthy.
If you want to produce something new or move yourself to the next level in some area of your life, dealing with organization and storage is the ideal base. As the first step, ensure that no excess clutter will stand in the way of a change that you want to experience.
Focus and Productivity Issues
Clutter is tremendously distracting. Instead of focusing on one thing, it keeps your brain in a constant multitasking mode. Now, why is that bad? First, it's very tiring. Secondly, it prevents you from finishing one big thing by scattering your mind and body over a dozen of tiny ones. And finally, you will give up easier due to feeling overwhelmed.
How Remodeling Your House to Add Storage Space Helps Keeping the Clutter Away
Smart Storage In Unused Spaces
Adding storage in dead-ends, empty corners, and under the stairs is a great idea. Hidden cabinets, built-in shelving, and pull-out drawers hide the world of new possibilities. Built-in shelves can work well both functionally and aesthetically in many places. Think about having them around doors, a TV area, or at the sides of a fireplace. If you want to create a room divider but are not ready to commit (let's say you need it for a temporary home office), shelves are a brilliant idea. Make it a bookcase, or fill them up with decorative boxes to get even more storage options.
Another great, multifunctional solution is a bespoke bench. These handy items can fit into any corner or under a window, providing hidden storage AND an extra sitting place. Consider a custom-sized bench at your foyer, and have a comfortable space to put your shoes on and store them after use.
Utility Rooms
A laundry room can become a hobby room and a mudroom. Cover the walls with ceiling-high cabinets and shelves for storing various supplies, as well as shoes, coats, umbrellas, bags, and much more. A corner for showering your pet after a walk would also fit there perfectly.
Some creative ideas might be of use if you don't want to invest in a full remodeling. Are there any cabinets and closets that you don't really like or use much? Repurpose them in a mudroom. You won't have to look at them all day, and they will save you the cost of buying new stuff. An old ladder is perfect for doubling as a shelf. Even better, hang them high, horizontally oriented, and you will get a new, chic place for drying washed clothes.
Kitchen Storage Space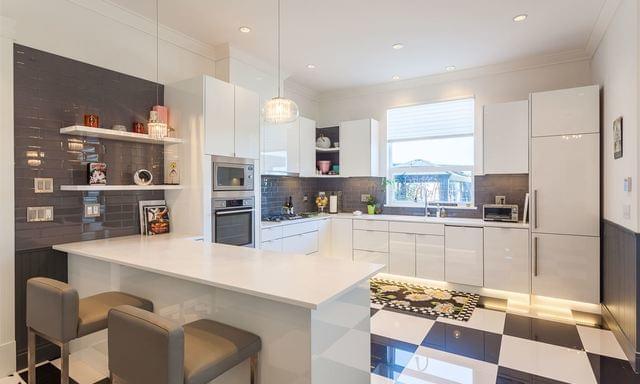 If you're thinking about kitchen renovation, consider new floor-to-ceiling cabinets with a variety of storage options. Pull-out drawers of different depths, sliding baskets, dedicated, convenient spots for cookware, and more – every thoughtful detail will enhance your cooking experience and out more pleasure in the process. The best part? You can use tall, narrow spaces to install high cabinets with shelving for small items that often drag all around, such as spice jars, cans, and backup supplies.
Removing walls and opting for an open space living area (including kitchen) will also help you declutter and become better organized. First, it will improve your habits. Second, in place of a wall, you will have a kitchen island with abundant storage options, customized to fit your needs. You can even sneak in a wine bar or something similar.
If your floor space is limited, consider a corner dining place with built-in benches that can, again, double as hidden storage for kitchen towels, table cloths, and many more. Alternatively, you can free up some counter space by using that corner for a small floor-to-ceiling pantry with drywall and shelving, instead of a dining area.
Bathroom Decluttering
A few lucky ones enjoy unlimited floor space in a bathroom. For the rest, it takes a bit of creativity and a great designer to perform magic. Start by thinking vertical instead of horizontal – floor space might be scarce, but there is so much more of it all over your walls. Instead of freestanding cabinets, opt for recessed ones. Wall-mounted shelves and cupboards offer a plethora of bathroom storage possibilities. Hung within reach, they allow effortless access to all kinds of items, from hairbrushes to towels and bulky bottles.
Replacing the standard bathtub with a walk-in shower is one of the best moves you can make when remodeling your bathroom. It saves floor space, but there is much more. Transparent glass dividers make the room look and feel more spacious. The effect is even stronger if you use the same floor and wall tiles all over. Also, accessibility is essential in some cases, like when you're remodeling to adapt the house for aging-in-place. A walk-in shower is a breeze to use.
Bedroom Storage Solutions
Even if you are not the type who leaves clothes everywhere – in a bedroom, there is always something that could be tucked away. Moreover, out of all rooms in the house, the bedroom is where you really shouldn't have any visible excess if you aim for a healthier life. Even when you sleep, a part of your brain works. That means a part of you is always aware of the surrounding scene at all times. Furthermore, that also means anything can affect it enough to disturb your sleeping sequence.
If you have enough floor space to use, think about hidden storage behind the bed, all over the wall. Better said, create a new, "fake" wall in front of the existing one. It will help to keep the room looking clear and free, while holding a ton of hidden compartments at the same time. Alternatively, think of a gallery bed. Lift it up to create more visual dynamics in the interior, and use the space below to slide in some large drawers.
Doors and Traffic Areas
Being limited in floor space means using all you can to make storage. That also means you may be wasting some precious areas on conventional solutions. A standard door might be limiting your possibilities with the way it moves. Have you thought about switching them for a sliding model? Yes, it requires some wall, but that doesn't mean you can't place a cabinet in front.
Organized Storage Space, Organized Mind
Once you have a place for everything and everything in its place, you will probably notice several things at the same time. Dopamine will replace cortisol. You will feel accomplished and ready for more. Moreover, your focus will noticeably improve, as well as the productivity. One thing will boost another and, before you know it, you will be leading a healthier and happier life.
If you are ready for the next step but need more professional guidance in order to make the most of what you got, contact us and schedule a consultation. We will offer customized solutions, tailored personally for you, your home, and your lifestyle.