Wallpapers are back, can you believe it?
Do you remember houses in the '60s and '70s with patterned wallpaper that could make you feel dizzy at a glance? Some were flashy and colorful, and some were discreet. And then they went to history. Who would have thought that only half a century later, they would return?
What you perceive as wallcovering now entirely differs from the era when virtually every vertical surface featured visually striking layers of paper. Sometimes the rule of thumb was一the more bizarre, the better. Wallpaper was everywhere, and, at some point during the eighties, the world eventually got tired.
There are many other logical reasons as to why it happened. Lifestyle was changing, and so were the trends. The need for simple, minimalist interior designs was on the rise, and flashy wallcoverings didn't quite fit anymore. Predictions were not optimistic, and it truly seemed that this kind of deco had finally bottomed out so much that it's unlikely ever to see it return.
And yet, wallpapers are back in full glory, much more modern, in new designs and textures, in 3D version, or in a combination of patterns and exposure from the wall. I see new decals combined with fabric and vinyl or thin metal, and I love them because they give a different dimension to the room. Wallpapers are inspirational; they give you the feeling of who you are and can even help your mood and daily activity.
Stay with me to get a little insider knowledge and truly take the best out of wallpaper trends for 2020.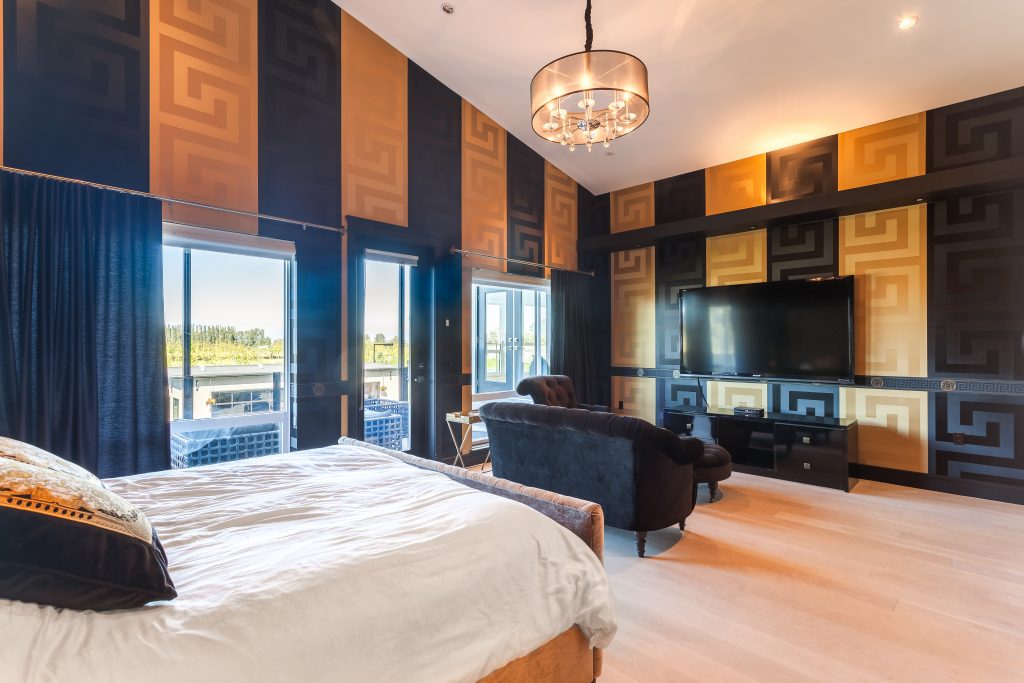 Wallpapers are Back in Style
Wallpapers feature a rollercoaster of a reputation. Not as far as ten years ago, if you heard someone mentioning how they were thinking of putting up wallpaper, you would probably stare in disbelief. It's not so weird, as some of us still remember spending endless hours tediously removing old wallpaper from every surface of the house, in order to coat the walls with refreshingly simple layers of paint.
But this is 2020, and that means improvement: no thick paste anymore, no hard labor, and no messy, exhausting removal. Wallpapers are back pre-glued and ready to be applied directly to the wall. Many of them come in specific designs, such as giant stickers, for effortless removal without damaging the surface under. Very convenient, as it allows for experimenting and refreshing without a permanent commitment.
In contrast to the cool and neutrals tones that dominate as choices, wallpapers feature bold colors, statement patterns, and nature-inspired prints. In difference of wallpapers from the 20th century, you should not cover your entire home in landscapes or florals. Quite the contrary, the trend focuses on visual accents and a chance to make a significant impact on a smaller scale.
Also, wallpapers are back in unusual spaces. Toilets, bathrooms, kitchens, foyers, and closets are all excellent places to experiment with a bold print. If you want, you may even try covering the entire small room for a unified, statement look. In a living room, dining room, or bedroom, though, it's better to stick to accent zones.
New Statement Wallpapers are Back
Feel free to experiment. The best part of new wallpapers is: if you don't like it, just take it down and start again. Whatever might be in your taste, there is something to fit with it. Everything goes, from traditional florals and tropicals to modern geometric and architectural designs. New printing techniques made possible a large variety of finishes, and the availability of new technologies makes it even more exciting. Leather, silk, 3d, you name it, and someone will have it already made.
Bold Patterns and Palettes
Pops of colors add dynamics in contrast with neutrals, offering some edge in interior design and moving the overall palette towards the warmer side. Combinations of different patterns are encouraged by designers, and an eclectic mix of classic stripes can work great with exotic styles. Still, it's not a good idea to make the whole space look too busy, so go with colors that complement each other.
Naturals
Sustainability is expected to hit its highest in interior design trends for 2021. Increased awareness of our planet and the expendability of its natural resources is finally supported by the elevated desire to repair, repurpose, and recycle, on a global level. Durable, raw materials and designs take over the scene. Simultaneously, green hues follow with the biophilic trend of wellness, together with real plants and foliage. Bringing the outside in is the new black.
Graphic Patterns
A rise in popularity of ordered, structured design brought interiors embossed in elemental geometric arrangements and monochrome palettes. Considering the challenging times we live in, it's not surprising at all. Geometry in the interior offers some psychological relief through comfort found in routines and stable, defined patterns.
Monochrome Graphics and Patterns
Black and white combinations are an eternal synonym for style, that gets another dimension in monochrome wallpaper solutions. From eclectic to high-tech design, it features pictures that can trick the eye, ranging from endless spirals to "moving" images. These wallpapers can be indicators of your condition. According to some studies, the faster the picture "moves," the more tired the person is.
Murals and Decals
Murals and scenic wallpapers are a huge trend this year. They present an extraordinary statement for your walls as well as a road to some much-needed escapism. Wall murals have been rising in popularity for some time, as a convenient choice of a statement feature wall for designed homes. Popular categories include forests, world maps, or striking floral arrangements.
Peel and stick materials offer the most effortless way to refresh the room, and a lot of extra flexibility in decorating. It's broadly used in rental properties as a temporary solution, but also by homeowners who are not ready for a more permanent change.
Chintz
Traditional schemes, in eclectic tones and quirky motifs, are both whimsical and sophisticated. Chintz is probably the closest reminiscent of the old centuries wallpapers. It's a transitional treasure, as they can look simply amazing when paired with modern furniture and decor pieces. That juxtaposition provides a new sort of dynamics that is edgy, fresh, and interesting at the same time.
Old Glamour
Old Hollywood, art deco, decadence, and romantic vibes of the Golden Era with a modern twist are more desirable than ever. Botanicals, golden-lined geometrics, rich reds, and deep hues offer a dramatic, opulent finish. It bears a sense of careless luxury, quite welcome as a way to shelter from the harsh reality in 2020.
Metallics
The original novelty in wallpapers is a metallic effect, an ideal companion of modern minimalist design for a living room or bedroom. It comes in a variety of stylish options, with black or graphite being the most popular. The combination of matte and glossy coatings of the same color is recommendable as a way to add some energy between the walls. Relief metallic wallpapers and rougher textures present a welcome refreshment from a standard flat look.
Waves
Very fashionable wallpaper in 2020 offers an incredible variety of options, from wide stripes with a gradient color transition to calming, zen-style aquarelles. Novelties feature wave patterns with a 3d wavy surface, attractive in appeal, and perfect as a focal point for the interior of the living room or bedroom.
Alternatively, you can go for a middle solution and choose a mix of embossed wallpaper with a wave pattern and a metallic effect. Use it only to finish one of the walls, though; otherwise, the result will be beyond overwhelming and unpleasant to spend a lot of time around.
Wallpapers are back in Various Materials
Paper-backed or solid sheet vinyl is typically a base for patterned wallpaper designed for residential use. It's resistant to stains and grease and effortless to maintain. Still, it's good to avoid paper-backed wallpaper as a covering of a wall in a bathroom or any other room that generates a lot of steam. Moisture affects the paper and causes the vinyl to separate, also decreasing the longevity.
Vinyl-coated paper is a wallpaper with a layer of liquid vinyl sprayed on the surface. It provides a good base for printing details and patterns. Also, it is durable and easy to maintain.
Fabric-backed vinyl is considered to be the most durable base for a wallpaper since it's made of notably dense fabric. It is not very suitable for pattern printing, so you'll likely find it in different monochrome palettes and specific finishes. This material is heavy and sometimes challenging to install, especially for DIY. On the other hand, it's a suitable solution for kitchens and bathrooms, as more moisture-resistant than standard paper-backs.
Digitally printed vinyl is, commonly, custom-designed for printing realistic photo images according to the customer's choice. It comprises a very thin layer of paper and a paper liner to be placed underneath to keep the placement as smooth as possible. Printed vinyl works excellent as a mural, suitable for any room or area.
Wallpapers are Back, Period.
All trends in 2020 fluctuate between maximalism in design and warmth in colors. Geometric designs seem to grow bigger, and whimsical vibes follow closely. It's exciting to wait and see what will come next, as 2021 is promising to be a bold and colorful year, at least in terms of wallpaper design. 
By Aryo Falakrou (My Home Designer)