Is it possible for different generations to live together and still maintain healthy levels of privacy, social life, and lifestyle as a whole? When you hire a designer who thinks outside the box, is able to observe every issue from different angles and find a solution to any problem – then the answer is YES. A multigenerational home can be a very convenient option for a family. Even more so, if the layout plan pays proper respect to everyone's needs.
Considering economic fluctuations and a sustainable approach to modern lifestyle, today's families are attracted to flexible house plans that can offer additional comfort and cover for any unexpected circumstances. Parents often have in mind their children. Young adults may return home after college, looking for a risk-free base while setting up their own lives. Similarly, young couples might be preparing to welcome newborn family members or a possibility of housing the senior ones.
Multi-family house plans, in contrast, include several independent living suites. These are typically separated within the same structure, usually featuring one unit per floor or placed next to each other.
In contrast to multi-family residences, a multigenerational home offers manageable housing options that can suit many different needs. Cleverly planned, it easily accommodates different generations under the same roof, requiring no major divisions or further adaptations. It's possible to create privacy in many ways, including dividing living and sleeping zones into separate wings, adding a bathroom to every bedroom, and similar. At the same time, communal areas such as the kitchen, dining rooms, and others can remain shared.
And that's what Theo was looking for.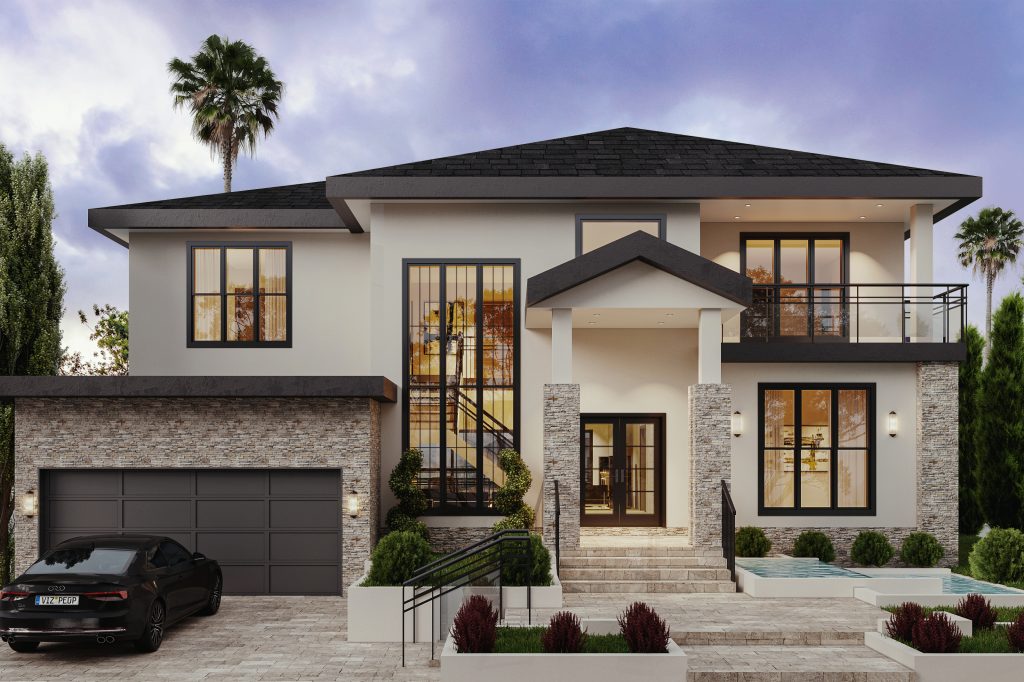 Why Theo Wanted a Multigenerational House
Theo arrived in Canada to study, filled with the hope of starting a new, prosperous life after graduation. Five years later, his dreams began to develop in a perfect way.
He met and married a beautiful girl, and the couple decided to settle in Vancouver. The idea of building a house of their dreams – customized by their desire, a perfect place where they can grow old – kept lurking in the background, waiting for the right moment to shine. Finally, after receiving happy news about a baby on the way, the couple decided that it's time to act.
They wanted a place where their kids will grow stable and safely, having a courtyard to play in, and rooms to call their own. But that wasn't all. The family aspired to stay close and be always at hand with each other. So the final decision was to build a multigenerational home for both the young family and Theo's in-laws. Its plan should secure sufficient space and high levels of privacy for all.
What Could Go Wrong?
Aware of all issues that might emerge from the generation gap, the couple decided to prevent rather than cure. They understood the importance of a good layout plan, and the benefits it might bring to everyone. That's why finding the right designer was essential.
Theo wasn't sure where to start, not even whether to hire a builder or an architect first. He was spending hours exploring the abundant offer on the market, looking for someone that could fit his ideas. One day, a certain Houzz profile caught his attention.
It seemed like a perfect match, a designer who cares and understands the needs of his clients. Apart from possessing abundant experience and knowledge about ageing-in-place, he was also an expert in traditional approaches and wellbeing philosophies such as Feng-Shui.
His name was Aryo.
Developing an Ideal Plan For Theo's Multigenerational House
Aryo turned out to be everything Theo was looking for, not only a designer but also a certificated builder, versed in each and every aspect of designing and constructing a house. The best part of the offer was the possibility of having a free 30-minute consultation. Theo was able to meet Aryo, describe his wishes, and make sure that he had found the right person. After the first meeting, there was no more doubt – they were a match made in heaven.
So the project started.
The common ground for all future residents was their wish for a bright, airy, elegant space, filled with daylight. However, some challenges were on the way.
The young generation wanted to follow the latest trends. Their idea of an ideal home implied a super modern design. It involved a computerized smart-home filled with the latest technology, life-changing gadgets, and cutting-edge devices. The couple was interested in the practical side of things above all, without much thought of theories behind the function.
Naturally, the seniors were not sharing the same level of excitement. Their preferences lied in lasting values, long-term opportunities, and traditional, familiar ways. Cultural heritage and habits were important to everyone, and diversity needed a middle ground.
Luckily, Aryo had more than one ace in his sleeve. The project he offered was an ideal marriage of ancient philosophy with the indulgence of modernism.
Aryo and Theo Found the Perfect Solution For All
The older generation's desires have been covered in several vital aspects. By using quality materials, Aryo ensured that their home would be a long-lasting quality structure, reliable and comfortable. Every segment was composed in line with the philosophy of Feng Shui, filling the space with harmony and spiritual peace.
Clean lines, lightweight furnishing, and a black-and-white colour scheme gave the house a modern flair. That, of course, sparked the joy of the younger generation. In contrast to seniors who followed Aryo's lead, they wanted to know the reason for everything. As a result, Theo and his wife learned a lot about Feng Shui and ancient living philosophies. They developed a passion, along with a deep understanding of how and why all those principles still matter today.
Technology solutions were incorporated discreetly and convenient for all residents. Between ancient philosophy, modern culture, and bridging a generation gap, Aryo made sure that the project will comply with all local zone codes and restrictions. Hard work and devotion to find the right common ground and satisfy all parties, getting over hurdles and red-tapes, paid off in a gorgeous new structure and ecstatic residents.
The final result is a high-quality design. Distinguished by paying respects to the old ways, it successfully combines them with the modern lifestyle. Theo's home is now a perfect fusion between traditional and modern, Western and Asian, functional and aesthetical. Feng Shui and West Coast embodied in one multigenerational home, provide a perfect place for in-laws to enjoy their grandchildren. In his own words, the project exceeded all Theo's expectations.
Why Choosing a Multigenerational Home
Sharing a home with in-laws, parents, or adult children can be challenging – but it also bears a plethora of advantages.
Sharing living expenses and other responsibilities provides a possibility to invest in other spheres of your life. Along with other improvements, it also offers an easier path to acquire a newly built house of your own. When it comes to families, surely it's more affordable to maintain a single multigenerational home than two or more. There's just one mortgage, more manageable to pay off with a shared set of utility bills.
Along with being an affordable, cost-effective choice, a multigenerational home provides peace of mind with shared responsibilities. Everything counts, from maintenance and repairs to taking care of supplies and child-sitting. Ageing in place is also more relaxed when having someone at hand for support at all times.
Finally, one of the best things about living in a multigenerational home is the ability to share with family members. We live in an age when loneliness has become a severe social issue. A house full of conversations, laughter, action, meals, customs, good and bad times – sometimes seems like a true sanctuary. Living together gives a chance for older family members to pass on their (and family's) history to the younger ones. It can help them to strengthen their identity and create a shield against the uglier part of the world.
Communal living in a multigenerational home brings many psychological and physical health benefits.
For seniors, ageing in place with their children and grandchildren helps them stay active and sharp for longer. It also diminishes loneliness, which is a common problem and a source of fear for seniors.
The younger generation can also benefit from having other adults in the house. Sharing the burden means lower stress levels and more time for good things in life. Strong family relationships are a source of comfort and peace, leading to a healthier life for everyone.
Do you want to learn more about the ways to get a multigenerational home of your own? Follow Theo's path and schedule a free consultation with Aryo today.