Horizontal expansion or add a second story to the house? In which direction to renovate?
Many bungalows or one-story homes around your neighborhood have been built mid-century. Their primary purpose was to fulfil the basic needs of occupants at the time when money was hard to come by, and mortgages were not a common thing. More often than not, the available space was not sufficient to secure proper comfort.
Now that money is so cheap, and almost everyone can take mortgages for renovations, it has become a sort of trend to borrow money for the purpose of improving. Creating a better living space, adding an extra bedroom, making the kitchen and living room larger or adding one bathroom or two have never been easier.
The question is: should you go horizontal or vertical?
Hard to say. In some cases, going horizontal is great; in many others, vertical is a much better idea.
Why Going Horizontal?
A horizontal extension depends on the plot size: you need to make sure there is enough extra land on the plot. If its size is limited or the codes are too restrictive, then a vertical expansion is the only solution.
Going flat is a better option if you want to avoid stairs. Also, a broader floor plan with rooms further apart allows for a variety of designs and good separation between private and public zones. Horizontal expansion is a better solution for ageing-in-place, as it allows more freedom of movement. 
Ground floor extension can also prove to be a more affordable alternative, depending on your current roof structure. It allows for a better connection between indoors and outdoors, and it's possible to reconfigure the floor plan to design the ideal rooms with a lot of open-plan space.
Why Going Vertical?
First of all: you can get a better view without losing your backyard, and maintaining the house would be much easier and cheaper. Next, going up will increase the floor area's square metres without having to worry about the surrounding land.  
Many people are indecisive because of the footing, not knowing if it can take the load of the upper floor. No need to worry about that. A structural engineer knows how to investigate and to help us to create a point load. There is more than one solution available; for instance, we can enforce only some specific areas of the footing as a support and build the upper floor on it. 
You will get a new roof and a new lighting system. In some cases, we come up with a higher ceiling on the main floor, which results in brighter, more airy space.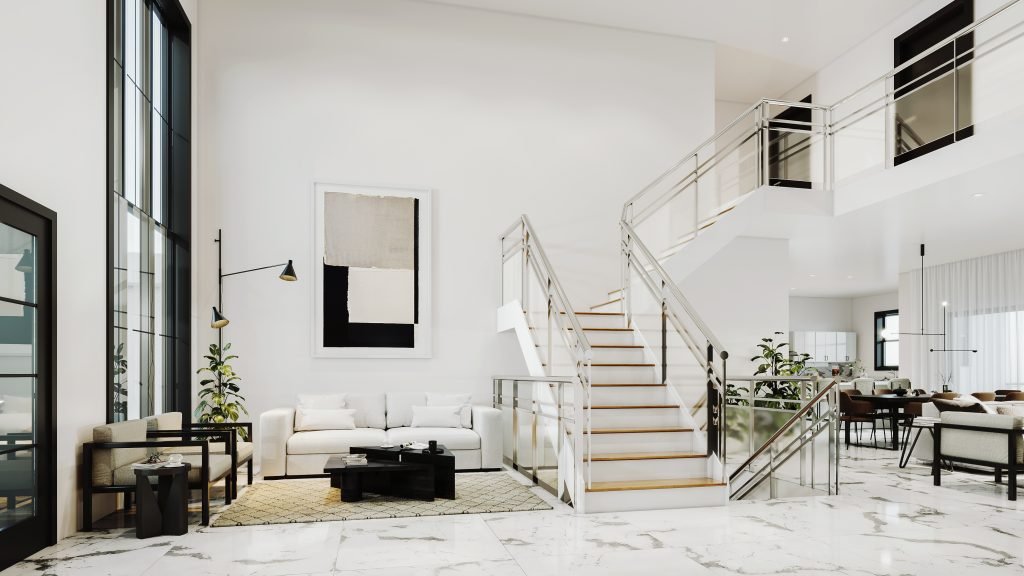 What Is the Typical Cost of Adding a Second Story to the House?
It depends on the house's footprint, how many stories we are adding, and the condition of the footing. On average, the price will start somewhere around $200k and can go up as much as $500k or more (remember, you will end up doing some work on the lower floor as a result as well).
What Is the Price of Adding a Room Over the Garage?
Supposing that the garage is not too old, we would still have to do full insulation. This kind of renovation can cost from $40k up to $80k.
Some Factors Can Drive the Price Up
Demo, adding stairs, rearranging existing space, reworking plumbing/HVAC/electrical, and such. In most houses, the electrical wire and plumbing have to be altered to meet the new code. That is the main culprit of driving the cost up.
If we remove the existing roof, the new ceiling will sit on the existing wall, which then requires enforcement. In some other cases, we end up gutting the wall to the stud and applying new insulation. I don't see any problems with rearranging as it does not present a significant factor. 
Are There Ways to Cut the Costs And Add a Second Story to the House?
A short term cutting cost might lead to long term pain of paying more on utility bills or maintenance. I suggest the best way to reduce the overall cost is to have a reasonable design and approach that will minimize the damage. Think ahead of time. A good designer's work goes a long way when it comes to saving the construction cost.
Is It Cheaper to Build Horizontally or Vertically?
Absolutely it is cheaper to build vertically, 90% of the time.
1- the land is more expensive than air; by going up, you keep your valuable yard to entertain and enjoy
2- curb appeal, the house stands out much more handsome, and its full value will appear when selling the property
3- in many cases, you gain a better view with the upper floor
4- since the footprint stays the same, it's cheaper to maintain, and the utility cost will be less
5- you save on digging and concrete works – instead, you get a brand new roof for the entire house
Should I Expect to Face Issues While Adding a Second Story to the House?
Weight out on the existing floor, lack of skill with some contractors, surprise costs…
Education is essential. The client should be prepared for the unknown and have the mindset to control their temper for unforeseen cases. An uneducated and abusive contractor can cause big problems, so make sure to hire an experienced contractor that doesn't make a big deal out of every single issue. There will be many unexpected situations, but a smart contractor will solve them rather than use them as an excuse for a rip-off.
Generally speaking, is it worth it to add a second story to the house? Does it make more sense to sell and purchase an existing 2-story home? 
Nobody can make a home of your house except you. You are the decision-maker when it comes to the future of your living space and your mental health. Hire the right professionals and lead the team to make it happen. Financially, the renovation you do in your existing house is more valuable than buying another one that could turn to be a sack of surprises. If there is a bit of spark in you, then have no doubt about enhancing an inspirational home of your own in the lot where you have lived and grew already.
By Aryo Falakrou (My Home Designer)